PASS SUMMER FRIDAY COMBINE
Open to Players 14 yrs and UP.
29 May - 7 August 7-8PM
Northwoods Indoor



This summer our highly succesful PASS Combine program will be held each FRIDAY, indoors for the first time.


Our Combine, through its competitive culture has been designed to advance players for DA, ECNL ECRL, NPL and USC selection and level of play. High School Players and players entering high school will find this especially advantageous in preparation for thier season and methods of entry into College.


Through environmental intelligence we will support the creation of visionary players whom can initiate the attack and block through defending.


Engaged in the Combine Training Phase will be SAQ activation, completeing the training circle.
​​

PASS SUMMER TECHNICAL TUESDAYS

Open to Players age 8 - 13



Small Group Training 1-10 players
Available upon request


Registering your player for this program will advance their Physical, Technical and Intelligence aspects of the game.

PHYSICAL:

Upto 50% of this session will be focused on improving Soccer Speed, Agility & Quickness with and without the ball.

​

TECHNICAL:
Mastery of Techniques. Through deliberate environmental facilitation players will be conditioned to perform technical solutions in pressured game situations, forcing players to make real time decisions
INTELLIGENCE:
We like to call this PASS iQ. Through out the session we will support with leadership, decision making and modeling of keystone behaviors to significantly advance the players process of learning and application of techniques
PASS SUMMER FAST FEET FRIDAYS
Open to Players 8 - 13 yrs
29 May - 7 August 7-8PM
Northwoods Indoor



Speed of play in TRANSITION has been quoted as the #1 principal to improve your players decision making process in both the attack and the defense


SUMMER FFF will offer high paced transition games on a 1v1, 2v2 & 3v3 basis.
We will be focusing on our 'Box' methodology through the education of 'Exchange & Occupy'.


It is highly recommend to combine both Thursdays and Tuesdays for an ultimate experience in preparing your player for their Fall season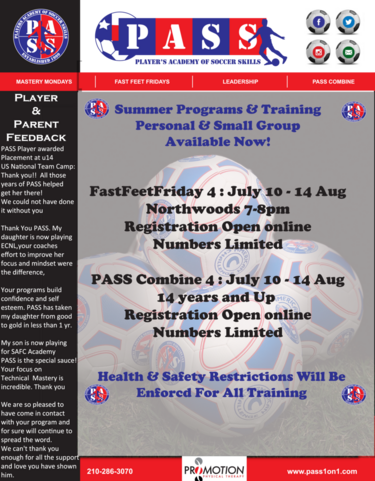 Throughout the summer of 2020 your ELITE FEET ACADEMY will be offering new summer programs TECHNICAL TUESDAYS and FRIDAYS To include our PASS COMBINE along with our #1 Leading program in South Texas FAST FEET FRIDAYS